Asigra Virtual Appliance powered by Zadara
Asigra and Zadara have joined forces to provide MSPs with the Asigra Virtual Appliance powered by Zadara. In the past, our backup software typically ran on a separate server from the underlying storage technology layer, but with Asigra's Virtual Appliance, our backup software is deployed on prem or in cloud with ease as a simple integrated service natively on Zadara's platform.
With Asigra's Backup & Recovery software and Zadara's Storage-as-a-Service platform, MSPs and backup admins have the ability to effectively and efficiently safeguard business data leveraging powerful features and an intuitive console, in combination with a subscription-based pricing model to de-risk the traditional way of buying expensive storage hardware based on projected capacity.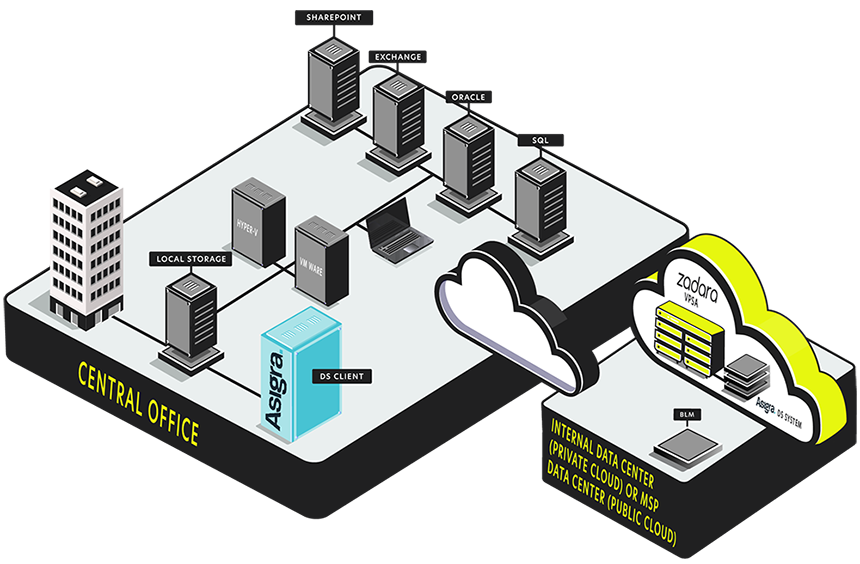 Simple Backup Using Asigra Virtual Appliance powered by Zadara
Pre-Engineered Integrated Purpose-Built Virtual Appliance
Fully-managed, enterprise storage-as-a-service (STaaS) solutions, available on premises or in the cloud.
100% OpEx Pricing Model
The only pure pay-as-you-go storage system with no minimum commitment or long-term contracts.
Available Anywhere. Anytime
Create a solution tailored to your needs when you need it. Public, private or hybrid cloud deployment.
Expert Management
Free your IT team from ongoing maintenance. Zadara delivers 24/7 proactive monitoring and support, and seamless upgrades, backed by our 100%-uptime SLA.
Clustered High Availability Solution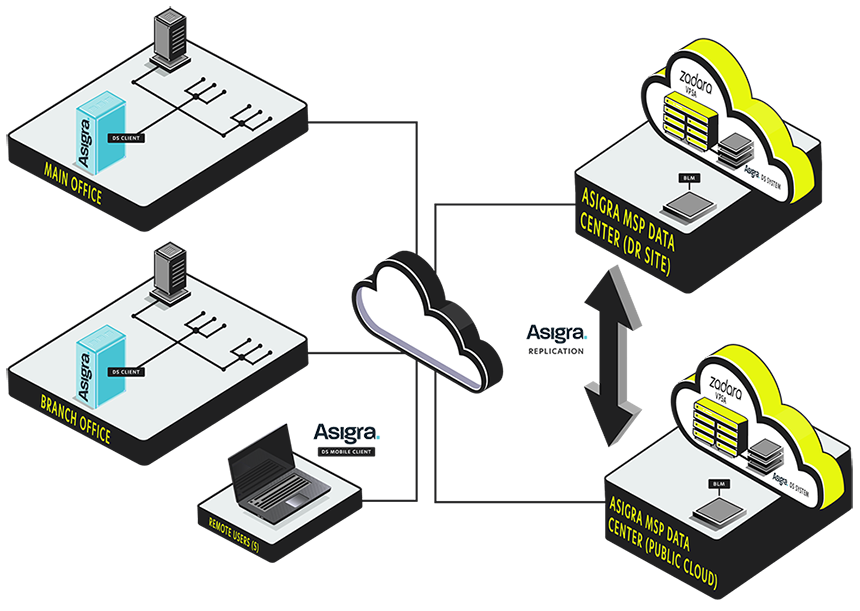 Agentless Cloud Backup Architecture
Centrally hosted software enables highly-efficient, low-touch mass deployment, upgrading and management.
Bi-Directional Malware Detection
All files are scanned in real-time on backup, isolating malicious code, and alerting administrators of infection. Before restoration, legacy recovery files are scanned again to prevent the Attack-Loop™.
Instant Recovery
Reduce downtime and keep end users productive while you troubleshoot production issues.
NIST FIPS 140-2 Certification
AES 256-bit in-flight and at-rest data encryption protects your data to the highest level of security and compliance.
Global Deduplication
Offering unprecedented efficiencies for the data being captured, processed, stored, and transmitted over the network.
Multi-tenant
Manage multiple customers in segregated environments on the same infrastructure.
Press Release
Data Sheets
See our data sheet to learn more about the Asigra Virtual Appliance powered by Zadara.
Learn more
Asigra Virtual Appliance
Get a snapshot of the Virtual Appliance powered by Zadara
Learn more
Support Overview
What level of support is available for the Asigra Virtual Appliance?
Learn more
Know what it feels like to have a seamless process in place for any backup issue.
Invest in a process for any scenario that meets the needs of your customers and keeps their data from being exposed.