Why Backup SaaS Data?
Most businesses rely on SaaS applications. Many also believe that SaaS vendors back up their data.
They are wrong.
SaaS vendors follow the Shared Responsibility model. This means that the vendor provides the service, while the customer is responsible for backing up their own data. Backup from most SaaS vendors is generally slow and costly with limited in-app functionality, and the data is not in a useful format. Many vendors recommend using a third-party service to back up your data.
Asigra has your solution.
Get the Whitepaper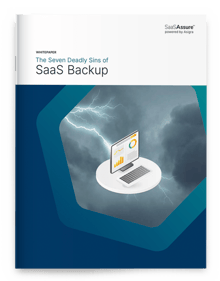 Why Asigra SaaSAssure?
If you're already backing up Microsoft 365, what about the rest of your SaaS data?
As more businesses adopt SaaS applications, the need to include SaaS data as part of a comprehensive backup and recovery strategy becomes more urgent.
SaaSAssure is the best option to back up and protect the broadest and deepest range of SaaS applications on the market today.
It's incredibly fast and easy to use; from start to protection in under five minutes. And once you set your automated backups, you'll free up IT resources to focus on other things.
For Managed Service Providers
As trusted advisors, Service Providers need the tools and solutions to address your clients' growing needs.
SaaSAssure provides Service Providers with a powerful SaaS data backup solution that is easy to deploy, requires minimal resources to manage, and lets you build in custom value-added services to improve profitability.
Asigra Partner Program
One Solution For Your SaaS Protection
SaaS Data Protection
Broadest SaaS app coverage
Data assurance and control
Risk and compliance mitigation
Ransomware protection
Quick Set up and Easy to Use
From start to protection in under 5 minutes
Automated backup and restore*, and point in time restore
One Console to Manage Them All
Maximize your IT resources
Dashboard for required actions and notifications
Multi-tenant capable
Secure By Design
Industry-first Multiperson Approvals (MPA)
Multifactor Authorization (MFA)
AES 256-bit encryption
Flexible Storage Options
Asigra Cloud Storage
Bring Your Own Storage (BYOS)
Data Sovereignty
AI and Data Management
Data analysis with artificial intelligence (AI) and machine learning (ML)
* For services where automated recovery is available.
Data Protection for the Most Popular SaaS Applications
Defend your SaaS data with a single backup platform that secures business-critical data against loss. Whether you use SaaS applications for DevOps, finance, collaboration, or more, SaaSAssure is ready to back up your valuable data.
SECURITY
Keep Backups Safe and Secure
SaaSAssure is built on leading-edge AWS architecture. It integrates advanced security features to protect data backups from external and internal malicious or accidental actions that can lead to data loss.
Pre-integrated Connectors
Adding New Services is Easy
SaaSAssure connectors seamlessly integrate with leading SaaS service APIs and enable Service Providers to add or remove new services with minimal effort.
Set up and start protecting data in minutes.

React to changing client needs quickly.

Simplified process with no manual intervention or custom coding required.

Charge only for connectors used.

View each client's connector status by account.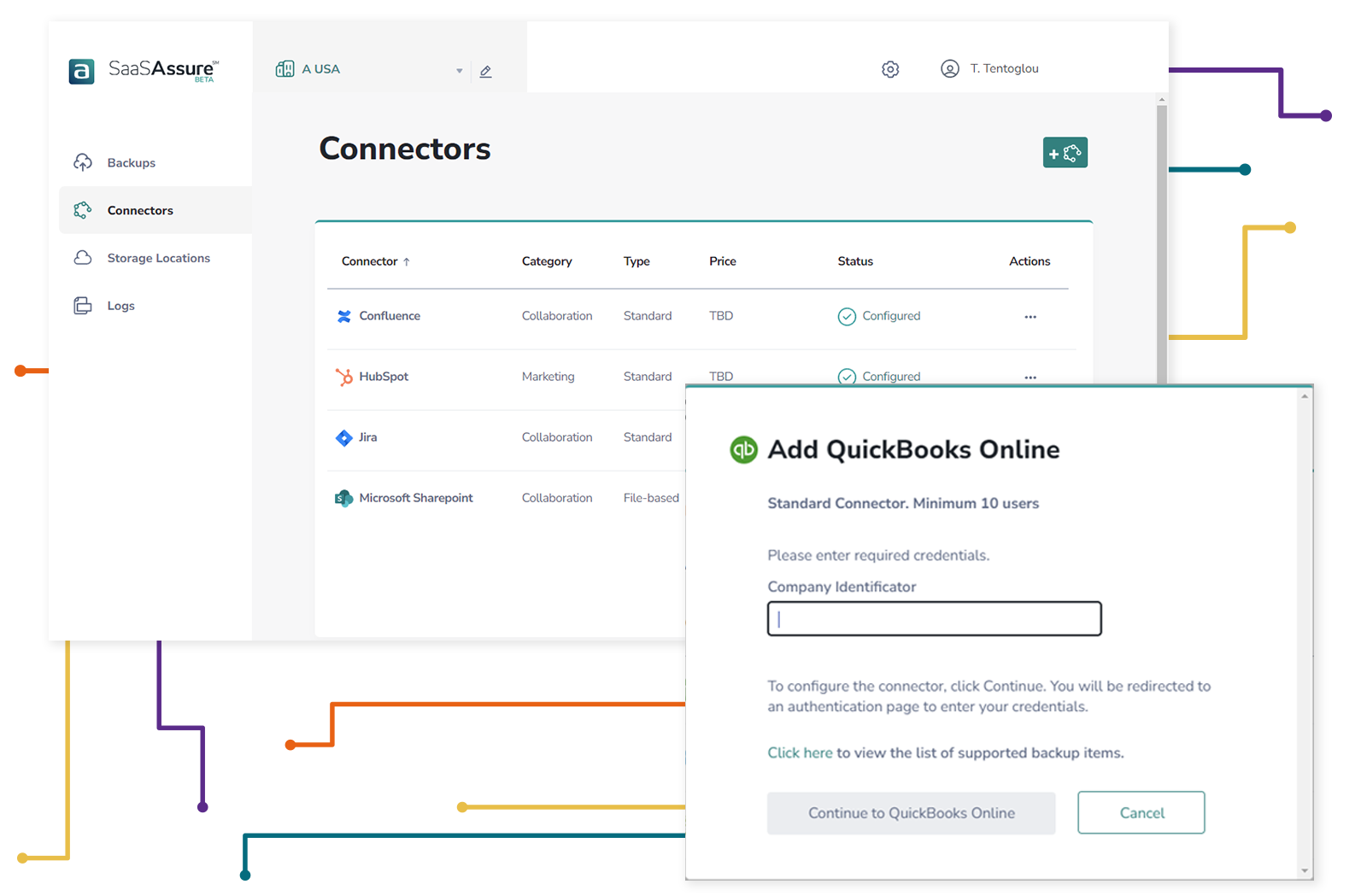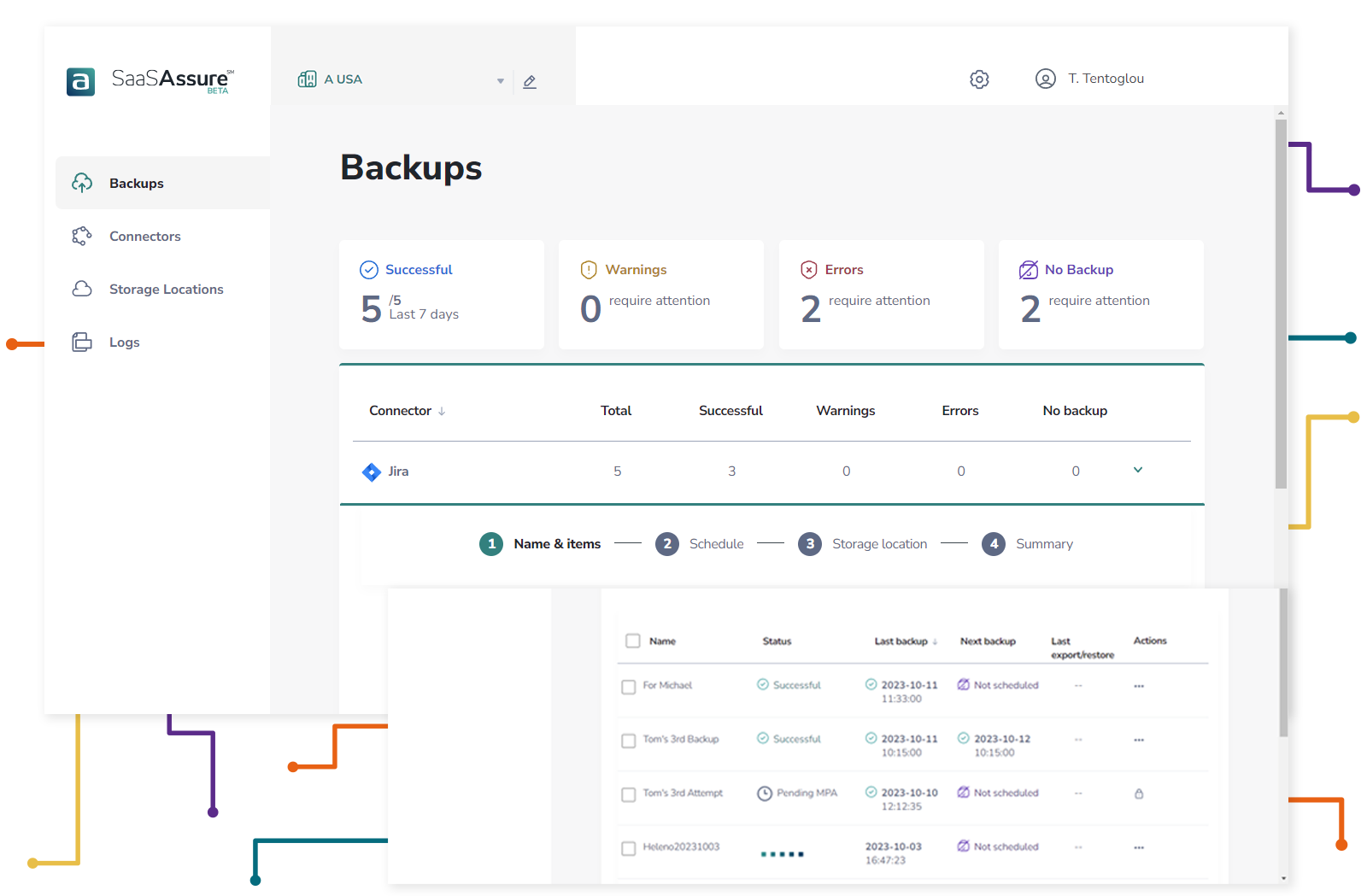 Automated Backup
Schedule Automatic Daily Backups
Make the most of limited helpdesk resources by scheduling single or recurring backup jobs to save time and ensure you never miss a backup window.
Full or incremental on-demand or scheduled backup.
Specify connectors, frequency, start date, start time, and storage location.
Back up to Asigra Cloud Storage, Amazon S3, or any S3-compatible cloud storage.
Status indicators provide instant updates on the status of a backup.
Export data to CSV format for platform migration, machine learning analysis, redundant backup, or performing point-in-time restore.
Manage Multiple Backup Environments
Centralize all backup management activity into one intuitive console that also provides quick insights and status updates.
Global and delegated management assigns different levels of admin permissions.
Account Group Tagging consolidates and accelerates account management.
Dashboard provides a real-time view of critical information related to multiple backup environments.
Activity and event log reporting.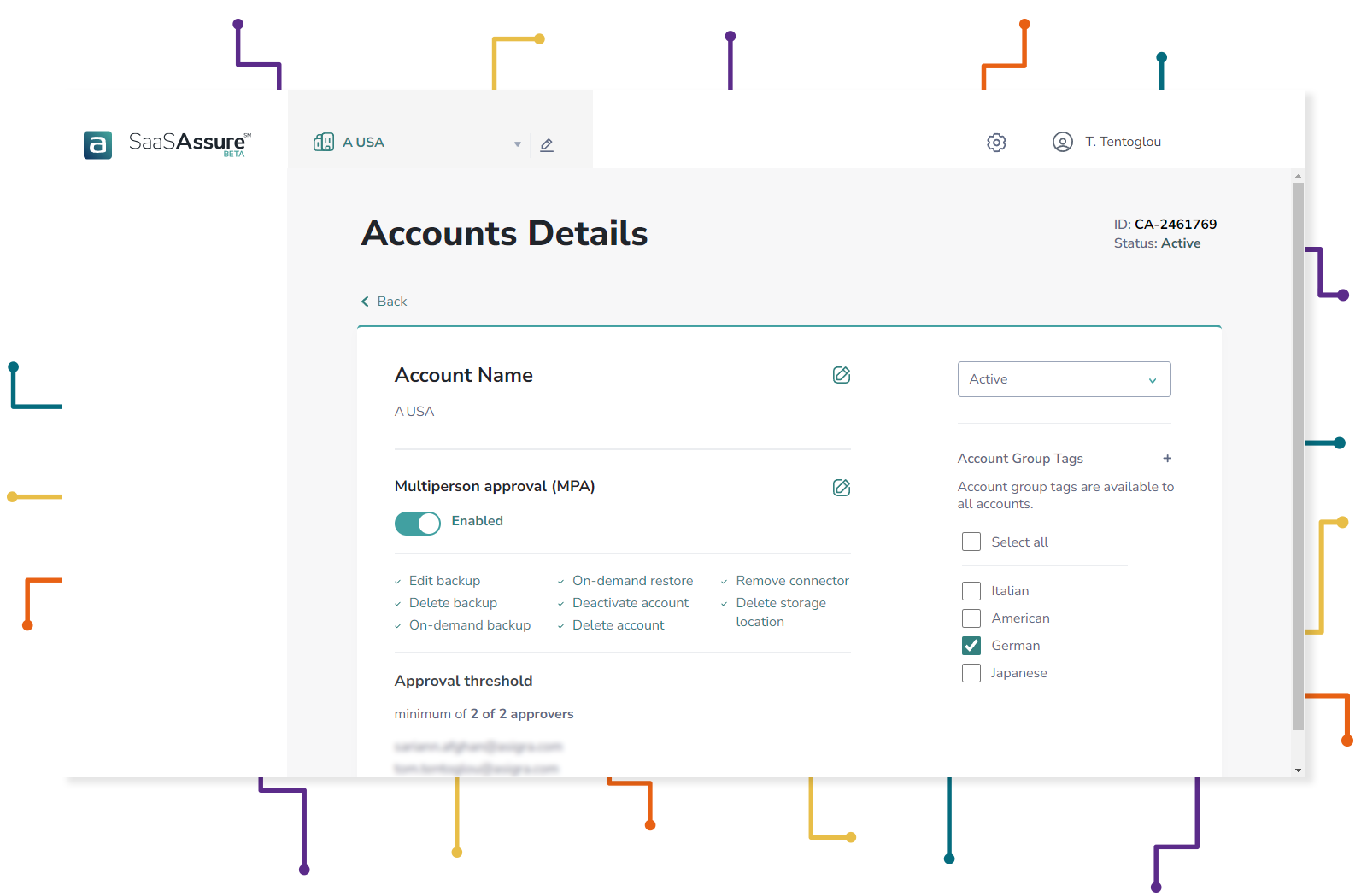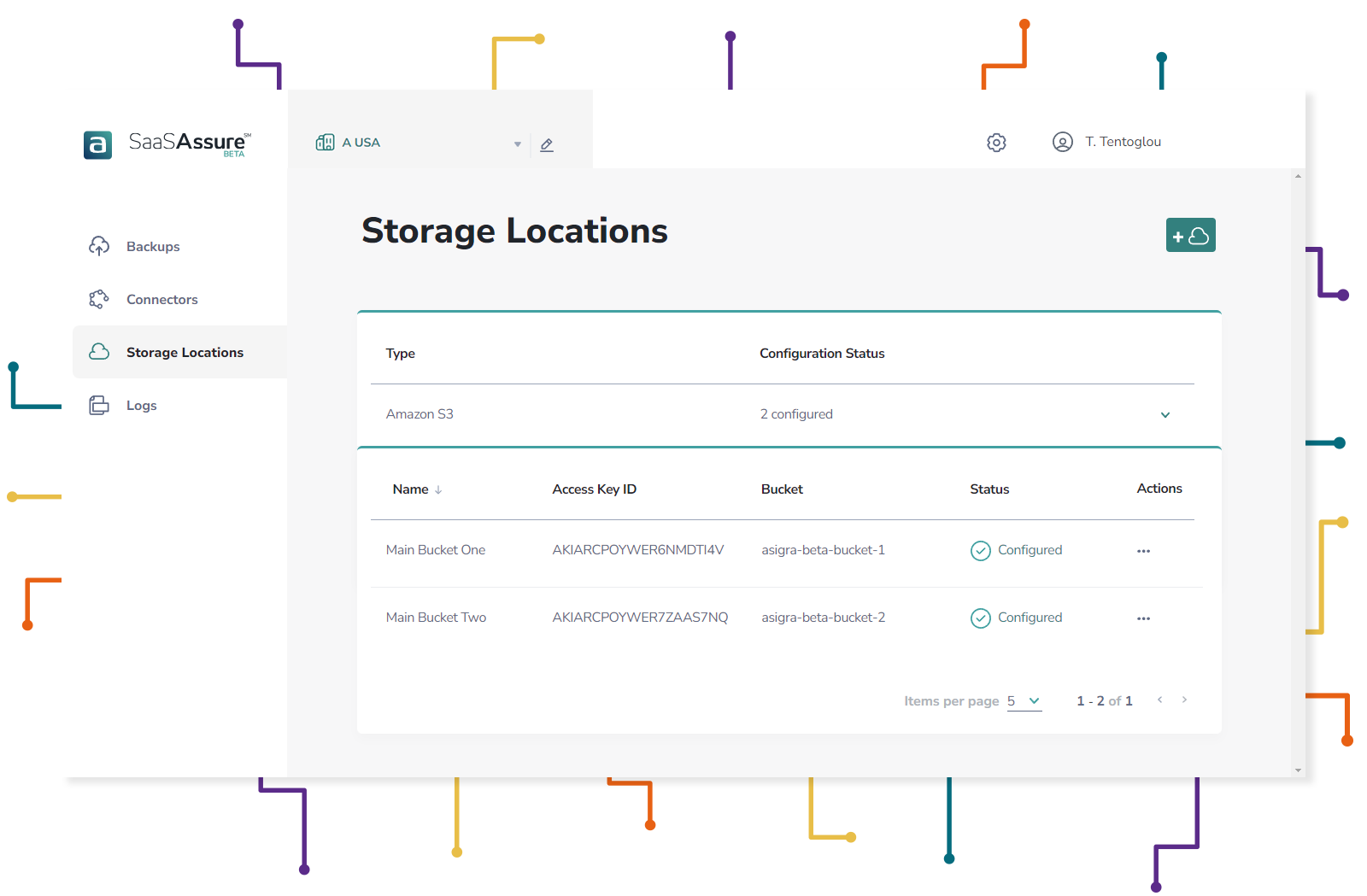 ACCOUNT MANAGEMENT FOR MSPs
Run Your Business Effectively
SaaSAssure is built from the ground up to be a true cloud-based service that Managed Service Providers can use to offer new value-added services to their clients.
Adjustable monthly billing cycles make budgeting easy and predictable for end customers.
Pool billing data together per connector and per end customer.
Generate invoices in CSV and PDF format.
Flexible payment options, including credit card and autopay.
What Our Partners Say
With today's hyper-focus on data security, SaaSAssure can be the one backup platform that enables IT leaders to protect all their SaaS applications and provide data recovery in the time they need it — whenever a disaster occurs."



Brett Piatt
CEO, CyberFortress
I'm really excited about working with Asigra. With Augmentt's ability to provide a full inventory of all cloud applications in use, and Asigra offering back up services for so many applications, this partnership is going to help MSPs dramatically accelerate their business."

Derek Belair
CEO & Co-Founder, Augmentt
Experience SaaSAssure For Yourself
Get started by joining the SaaSAssure Insider Circle Program.